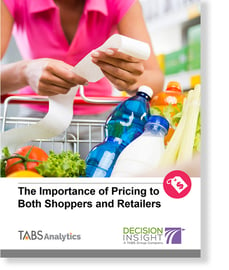 White Paper: The Importance of Pricing to Both Shoppers and Retailers
Changing price can be the quickest way to increase your bottom line, but there are risks to how shoppers and retailers will react.

Decision Insight and TABS Analytics partnered on this white paper to demonstrate the importance of understanding pricing from both a shopper and retailer perspective. Just as important as understanding the impact of price changes is the effect of changes in the marketplace, which enables brands to prove to the retailer that the recommended pricing will be positive for the brand, for private label, and for the category. Bringing together advanced analytics and virtual research to identify the right pricing strategies helps companies win at retail.
We leverage the key elements within each phase of the CatMan/ECL 5D Process to generate ROI for both retailer and manufacturer. This White Paper outlines how we can help you get started on the road to success in all 5D steps.
Using our proprietary Test and Learn Digital.IQ™ research platform to drive data-informed strategic direction with market-proven shopper research allows companies to thrive in the eCommerce marketplace.