Struggling to Harmonize your eCommerce Data?

Is your data giving you the full picture?
---
Every CPG manufacturer had to reevaluate its online channel strategy and sales in 2020 due to COVID-19, and with major shifts in customer behavior, old data and frameworks have been permanently altered.
Key reasons why data harmonization plays an important role include:
Because so many brick and mortar retailers are changing strategies due to the shift to online shopping, they need harmonized eCommerce data to base their decision-making on.
Syndicated brick and mortar data sets need to be paired with eCommerce data sets to better understand the shifts occurring between the two channels.
This means you'll still be seeing varied data sets across online and brick and mortar stores, making data harmonization an absolute necessity to fully understand your all outlet sales trends.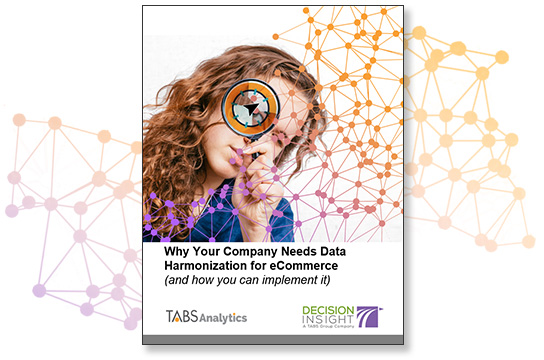 Decision Insight and TABS Analytics partnered on this white paper because of the importance of understanding data harmonization from both a shopper and manufacturer perspective. With the growth of OmniChannel shopping behavior as consumers switch between shopping online and in store, data harmonization is crucial in order for CPG companies across categories and sectors to understand the OmniShopper.
This white paper will explain how TABS and Decision Insight can help you do so.
Download your copy today and please reach out with any questions.
For more information about Decision Insight's eComm shopper research, contact Leslie Downie.