Special Report: How COVID-19 is Impacting Shopper Behavior
---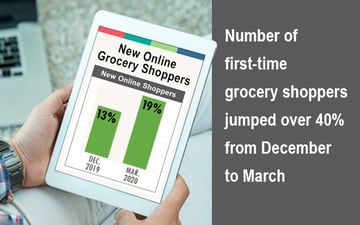 The human and business impact of the COVID-19 outbreak has been significant and devastating. CPG companies are scrambling to manage supply chains, distribution, inventories and delivery methods to meet the demand. Shopper behaviors are also rapidly changing during these uncertain times while their day-to-day lives continue to be disrupted. The number of shoppers reporting to us that they first began shopping online for groceries in the past month increased from 13% in December 2019 to 19% in March 2020, an increase of well over 40%.* Many of our clients are now struggling to understand, what to do next?
Are Your Competitors Getting Ahead of You?
This rapid acceleration of online shopping for consumer packaged goods has now exceeded previously forecasted penetration rates by double digits since before this pandemic. This new normal of shopper behavior will require analytics and insights to understand the OmniShopper and their Digital Path to Purchase requiring new capabilities in the Digital/eCommerce ecosystem.
Has Your Category Increased in the Past Few Weeks?
Let's take a look at canned goods, for example. This category had a meager single-digit percent share of its sales through eCommerce before COVID-19. Many center store categories, like this one, elected not to invest in online shopper marketing to date. But look at the shift and lifts in a variety of center-store categories since this pandemic hit, with most in the past 2 weeks. With the run on toilet paper, the category has seen a lift of 59% from a year ago. Imagine how much higher that number will be as people don't rely on finding it on the shelf in their store. If you go into any Brick & Mortar store, shoppers are trying to buy cases of canned goods. Yes, you can argue this is only temporary due to concerns, but is it? These same shoppers are now ordering cases of canned goods (and other products) online due to store shelves being empty at a variety of channels/sites, increasing their online share by double digits.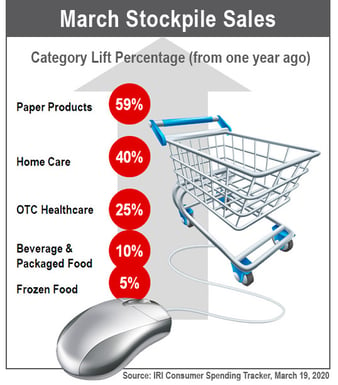 Now that so many first-time online shoppers have experienced how easy and cost-effective it is to shop for groceries online, will their behavior continue after the virus threat is over? Will manufacturers be ready to provide their key retail partners the strategic recommendations to continue to fuel and optimize the Shopper Experience online? Here are a few key questions to ask:
Optimized Taxonomy (Click Path):
How do shoppers navigate and what do they substitute when your product is not available?


Cross-Category Placements:
Do you focus on the shopper or just your category? What are the online recommendations understanding there are no physical limitations online?


Occasion and Solution Promotions:
In today's Coronavirus world… The shopper's decision to purchase online (vs. in-store) is now driven by safety vs. convenience. What are the online occasions and solutions for your brands?


Online Packaging and Pricing:
Do you understand how the visual online product image impacts the shopper's perception of value? A great example is Toilet Paper: Should you show an image with an "opened" package of Toilet Paper communicating the number of rolls at a specific price point or just show a single roll of the product? Details like this are the difference between winning and losing in the online world.


Search:
Have you adapted your internal marketing strategies to include a clear understanding of online tools such as search within product content pages? Does the marketing team understand each retailer's algorithm based on key search words?
The New OmniChannel Path to Purchase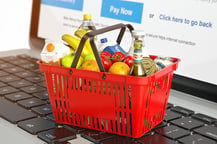 Hershey at this year's Category Management Association presented new capability requirements for the OmniChannel Path to Purchase. They did a great job highlighting the historical Brick & Mortar needs while presenting new metrics for Digital/eCommerce. There are new points of interruption, new triggers to purchase, new barriers to purchase, new occasions, new solutions and so much more both retailers and manufacturers need to understand and activate. With few exceptions, you can no longer separate Brick & Mortar from your eCommerce Path to Purchase… they are intertwined.
With Decision Insight and TABS Analytics, we are delivering the data you need to make the decisions to achieve the WIN/WIN and are leading the way in OmniShopping with custom analytics and research.
We have 20 years of virtual research and custom analytics, and continue as pioneers and thought leaders in this new OmniShopper world where Brick & Mortar and eCommerce deliver the world's goods. To learn more, contact Leslie Downie.

*Thinking about your online shopping experiences for groceries…when did you first start shopping online for groceries? (December 2019 n=755 primary grocery shoppers age 18-64, March 2020 n=1,609 primary grocery shoppers age 18-64)