Passion, Volume and the Grateful Dead
Getting more from flavor than reach and frequency.
In the 80's, an ice cream fan in Maine left an idea for "Cherry Garcia" on a corkboard in her local scoop shop. "Flavor Gurus" at Ben & Jerry's took the idea and ran with it, working to create a taste profile "good enough to bear Jerry's name." Their original idea was to duplicate the flavor of cherry-covered cordials. After much "trial by freezer" the team opted for whole Bing cherries and smaller-than-usual chocolate chunks in vanilla ice cream. The first eight pints went to Mr. Garcia himself – and the flavor became one of Ben & Jerry's three most popular.
Unfortunately, not every flavor idea has the serendipitous timing and pop-cultural buzz of Ben & Jerry's Cherry Garcia. Whether a line extension or rationalization, understanding the optimal set of flavors to include in a product line can be challenging. In most cases, the right research approach is needed to determine the best offering and maximize sales.
Why TURF Does Not Create Product Breakthroughs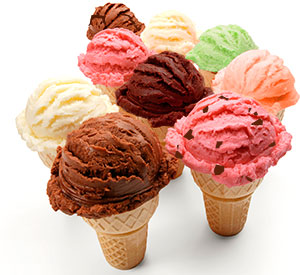 To determine the optimal flavor sets, many researchers recommend TURF (Total Unduplicated Reach & Frequency) analysis. TURF essentially looks for combinations that maximize the number of people who would be "reached" by at least one of the available flavors. So, for example, if you have Chocolate and Vanilla Ice Cream, adding Chocolate Chip probably does not "reach" people who are not already reached by one of those flavors. But, adding Strawberry may be more effective in reaching people who don't like Chocolate or Vanilla.
But there are several flaws with TURF. One is that "reach" is often maximized with only a handful of the top selling varieties – thus, improving reach can often be an unrealistic goal. Reach, by itself, is not a particularly useful product development metric. We also need to know: How will each variety impact the total volume of units shoppers purchase? And, how will the addition (or removal) of a certain flavor impact consumer loyalty?
Measuring Passion and Volume: Beyond TURF
Cherry Garcia lucked into passion and volume as a result of a clever corkboard note and a counter-cultural marketing tsunami – which are advantages atypical to most flavor development plans. But passion and volume are the two most important ingredients in Decision Insight's proprietary "Non-TURF" Flavor Analysis.
Decision Insight's Flavor Analysis answers three key questions:
What current flavors must remain in the line?
What current flavors could be discontinued?
What new flavors should be added to the line?
Using a series of simple exercises, we can efficiently evaluate a large quantity of products (we've tested over 100 flavors at a time). The output centers around two key components.
First, we conduct "redundancy" analysis looking for statistical associations across varieties. This analysis identifies and groups varieties that are highly duplicated or, in other words, appeal to the same consumers. This organizational structure provides a framework and one input into the recommendations: by increasing the number of "groups" represented in a recommended assortment, we are maximizing reach.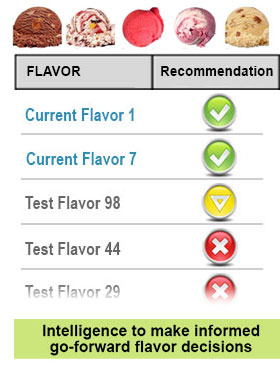 Then, within each group, all potential varieties are prioritized based on how they perform on a number of key measures. We typically include exercises that measure output such as breadth of appeal, depth of appeal, craveability, substitutability, etc. We can even take it a step further by using Shapley Value Analysis, to understand how much value each individual flavor adds to the line.
The process provides a clear framework for our clients to give every variety a "green light," "yellow light" or "red light." Operational factors can be combined with the consumer insights to begin to narrow down the set – and provide the intelligence needed to make informed go-forward flavor decisions.
Ultimately, Decision Insight's Flavor Analysis narrows risk and provides go-to-market confidence, leading to better allocation of resources, validation of existing flavor profiles and more successful new flavor introductions.

Contact Leslie Downie at Decision Insight to learn how DI's Flavor Analysis can make your flavor testing research more impactful.