Optimizing Online Promotions - Ready to Double Engagement?

Optimizing Online Promotions - Ready to Double Engagement?
---
Most CPG product categories are heavily affected by some form of online engagement. Shoppers compare brands, features, pricing and value online. For a product to be successful, understanding and optimizing online sales promotion is a must. Every day there are opportunities to build your brand and grow sales online.
eComm Opportunities Include:
Cross-Promotion:

Cross-selling, influencing purchase of a product that's related to what's already being purchased, can influence first time trial for new products. A cross-promotion may include a new sister-brand salsa "popping up" online as a suggested item when the shopper selects the manufacturer's tortilla chips. Or newly introduced croutons popping up when a shopper selects a salad dressing.



Occasion Bundles:

Cross-category occasion bundle-promotions, from meal solutions (Breakfast, Dinner), to Holidays (Halloween, Christmas), to sports gatherings (Super Bowl) can effectively build the basket and encourage new product trial by offering products from around the store in one online area — without the physical limitations of brick & mortar.


Checkout: Like traditional retail, impulse purchases often occur online. Consider items in a retail checkout lane and the physical interruption of the checkout pause that enables the impulse purchase. Since online the physical checkout interruption doesn't exist, can a new impulse product still make it to the online basket? Checkout offers suggesting related items other shoppers have purchased may activate impulse product trial.
By testing new promotional solutions in a virtual eCommerce environment, manufacturers can develop best practices to grow sales and shopper satisfaction. Decision Insight's Digital.IQ™ research platform was developed to help manufacturers test their ideas and optimize digital offerings before going to market. By measuring what shoppers BUY, you can understand the impact of your online strategies on SALES. Digital.IQ lets you test "What If" scenarios without risking sales or disappointing the retailer. Since the simulation is in the context of an online survey, we understand the impact to sales along with the "Why" via rich follow-up diagnostics.

How It Works
The key component of DI's approach is a simulated eCommerce experience where participants enter a virtual website and shop as they would in real life, interacting with the pages and products available. The virtual shopping experience is followed with rich diagnostics to understand specific elements that drive success and those that can be improved.

---
Case Study: Influencing Impulse Purchase in eCommerce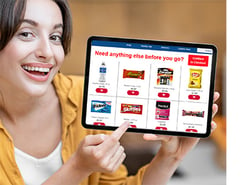 It's true that online shopping trips, especially for grocery, are generally highly planned. However, there are several key touchpoints where the shopper may be influenced beyond his or her shopping list. One of these touchpoints is at checkout.
The Challenge: A major food manufacturer needed to know: How can we build consumers' baskets and influence impulse purchasing in the eCommerce channel? How does checkout perform as a touchpoint?
The Solution: In our online Virtual Shopping study (inspired by the checkout lane in grocery stores), consumers shopped a simulated eComm grocery environment and were presented with a variety of multi-category impulse items during the checkout process. Because eComm is not restricted by the physical limitations of an in-store checkout lane, we were also able to test unconventional items not typically offered in brick & mortar to build the basket and grow sales. The response was impressive: The checkout interruption technique tested more than doubled the percentage of shoppers buying the checkout items, and dollars spent on those items increased substantially. Diagnostics also indicated a positive shopper experience and perceptions of the retailer, giving the manufacturer confidence in bringing the idea to market.
Key Learning: Checkout offers and featured items were extremely effective at building baskets online. And, while more seasoned online shoppers can be less sensitive to the order the products are presented, newer online shoppers tend to be more easily influenced by the order products are shown. We've seen similar success increasing conversion during the online shopping trip by offering bundling, cross-category suggestions, and special occasion promotions.
Digital.IQ rapidly tests eCommerce strategies and tactics, producing sales results and shopper metrics without physical inventory and cost risks associated with A/B testing. For more information about Decision Insight's eComm shopper research, contact Leslie Downie.
Do you have a clear view into eComm and in-store sales, and opportunities for each channel? Here's a brief overview with examples of our solution combining analytics with virtual research to optimize eComm and in-store sales: Applying an OmniShopper Lens to Your Business