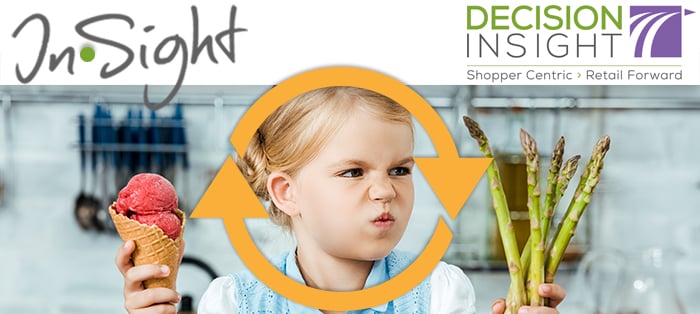 Online Shopping: Do you know your "like equivalent" brand?
---
Brands need to understand transferable demand to protect retailers from these types of mistakes.
With the rapid growth we're seeing in online grocery shopping, a new challenge is facing your brand and your retailers, ultimately risking shopper satisfaction: How do retailers determine what to do when an item ordered by a customer is out of stock and they must substitute another in its place? For most retailers, all products ordered online are set by default to allow substitution with another "like equivalent" product if the original item ordered is out of stock. Helping retailers substitute the most appropriate "like equivalent" brand is your key to success.
Knowing what products can be substituted for your brand as well as knowing which products your brand can be substituted for is an important step to maximizing sales for your brand and retailers as well as keeping shoppers satisfied. But retailers don't always get it right – here are a few examples:
Miracle Whip instead of Hellman's Mayonnaise

Snickers replaced with 3 Musketeers

Peach Pie for Apple Pie (OK in Georgia, but less acceptable in Washington State)

Beef Burgers substituted with Vegan Burgers

Baby Wipes replaced with Disinfecting Wipes (Ultra Strength!)

It's important for supermarkets to get it right, as tales of poor experiences are remembered more than reviews of good service. Identifying which brands are equitable will greatly help the retailer keep shoppers satisfied. The process can also save money for the retailer by reducing or eliminating substitutions with higher priced items when not necessary.
TABS Analytics provides brand-specific research to identify which brands/products are substitutable based on transferable demand. The process identifies the best item to substitute for the out of stock product. Using advanced analytics combined with virtual shopping, the process identifies which set of products in your category are transferable – and keeps shoppers loyal and returning to shop again and again.
Every brand owner should know their "like equivalent" brands because this process can also be used to defend retention with existing retailers or used to sell in products with new customers by demonstrating the value of adding your items to the mix. This approach lets you take control of what is substituted, is easy for retailers to understand and will clearly show the benefits to them. Contact DI for more info.

---

Alex Sodek is Chief Research Officer at Decision Insight.
He can be reached at alexs@decisioninsight.com or (816) 221-0445.