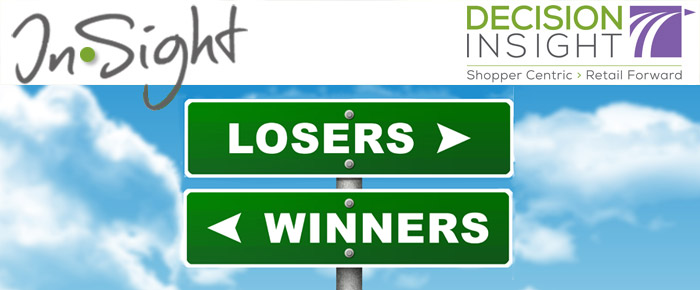 Is the Future of Your Brand at Risk?

---
Retailer stocking and consumer shopping behavior and habits are quickly changing. What will be the impact of these changes on your brand?
We see three broad categories:
The winners: brands that will benefit
The losers: brands that will lose shelf space or be delisted
The at-risk: brands that could go either way depending on how they respond
The Winners
These brands have found themselves serendipitously on the right side of history. Brands that have very strong equity that consumers demand or that can stay on the shelf during this crisis (think DSD) will aggressively grab space at retail. Consumers want your product and it's the perfect opportunity to devise win-win strategies with retailers by showing the impact of reducing competitive brands while increasing space for your leading brands and increasing space for private label. It's SKU Rationalization in 2020.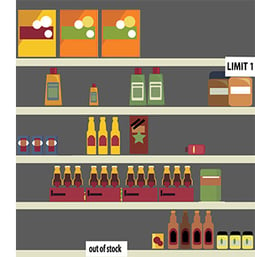 The Losers
For the losers, it will be difficult to stay on the shelf through the crisis. Warehouse distributed products are at greater risk. Categories with strong private label sales are at risk. Even if they survive, there is likely serious damage to their distribution and brand share. The natural strategy in these sectors will be to cut costs, limit risk and be ready to return when conditions improve.
The At-Risk
These brands will probably struggle if they continue as is, but some will adapt their business models to take advantage of new and emerging opportunities. In some cases, this will build a solid foundation for success.
For example, people are moving online to do their shopping. Already, Amazon is adding 100,000 new jobs to manage the extra demand. What is your position online? Have you optimized your offer?
Many smaller brands and warehouse distributed brands will not be on the shelf. In addition, retailers are reducing sets and/or expanding private label, what will happen to your brand?
As more and more people work from home in the future, there is a golden opportunity for products targeted to a new set of needs, what can you offer consumers?
Approach
Decision Insight recommends a proactive approach by completing a Brand Assessment in your category to determine your at-risk position or at-benefit position and then using virtual shopping to model potential scenarios. This way you can proactively work with retailers once the market returns or develop new markets if that is the direction you need to go.

Step 1: Brand Assessment
The ability of a brand to absorb short-term disruptions in sales due to changes in the market is a function of its current strength on-shelf. That is, highly productive brands can absorb a short-term negative impact on sales to achieve a longer-term objective. Weaker brands, however, may experience distribution declines if there is any negative impact on sales, and this is a longer-term effect. DI, in conjunction with our sister company, TABS Analytics, will conduct a Brand Competitive Assessment to determine the current level of brand strength including who should stay on the shelf and who can be eliminated.
EXAMPLE: In this example Brand ATD and Brand RTO exhibit weak productivity and sales trends. ATD, however, shows positive gains in Unit Sales Velocity (Units per SKU) and therefore, has substantially less risk of losing distribution than RTO. RTO has little ability to withstand any negative shocks to sales velocity and can be easy to replace.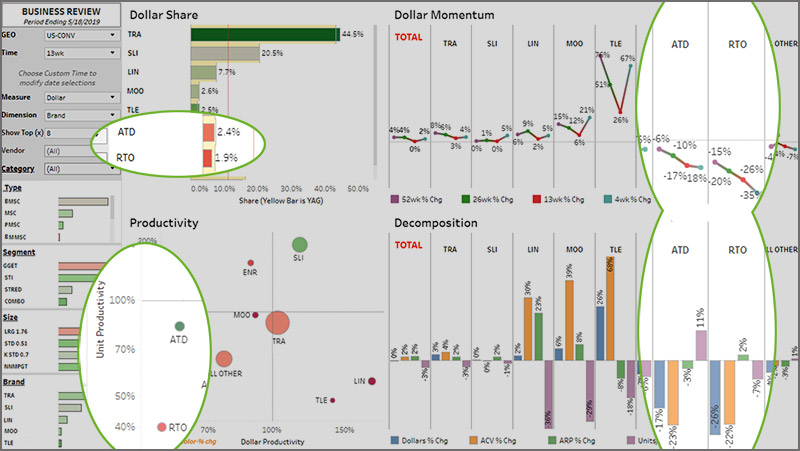 Step 2: Virtual Shopping
After Brand Competitive Assessment determines hypotheses on assortment changes, a ShopperIQ®-Assortment study using Decision Insight's proprietary, web-based virtual shopping platform, SimuShop® can be completed to determine Winners and Losers.
Decision Insight will create the aisle in a virtual retail environment (Grocery, Walmart, etc.). We set context for respondents with a fly-through video which establishes the retail location. Once inside the store, digital imagery replicates the product arrangement of the aisle. After qualifying for the study, consumers will "shop" either the Control aisle (with the current assortment) or a test aisle (with the alternative assortment). During the virtual shopping exercise, respondents will indicate which products they would purchase.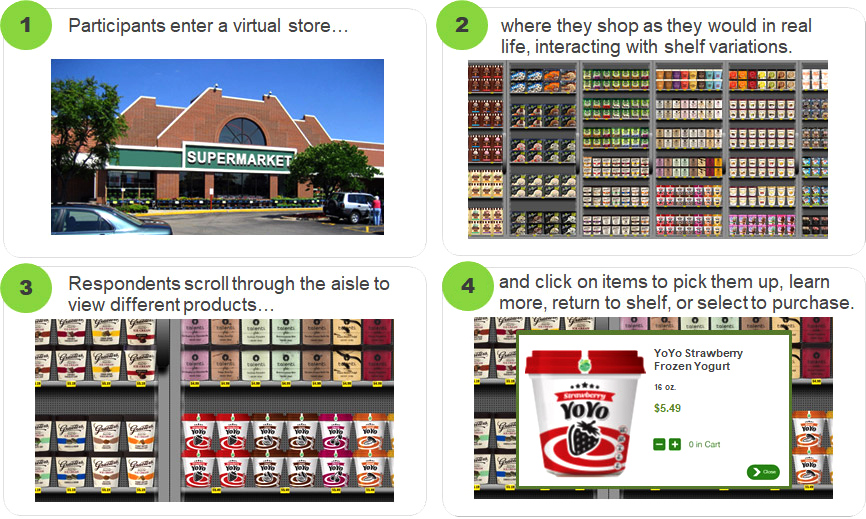 A substitution exercise follows by instructing respondents to shop again assuming the product purchased was not available, with the option to not purchase anything else from the aisle.
The shopping experience will allow us to identify which of these scenarios garners the highest purchase incidence/sales for the entire section and by brand, as well as the impact on shopper satisfaction – this will identify the Winners and Losers, and help At-Risk brands defend their space on the shelf. Results from the substitution exercise will provide input into switching levels along with brand and category loyalty.
Combining Brand Assessment and Virtual Shopping informs you where your brand ranks and how to take advantage of your position at retail. Contact DI for more info.

---

Alex Sodek is Chief Research Officer at Decision Insight.
He can be reached at alexs@decisioninsight.com or (816) 221-0445.