Extreme Marketing Makeover: The Four Ps Edition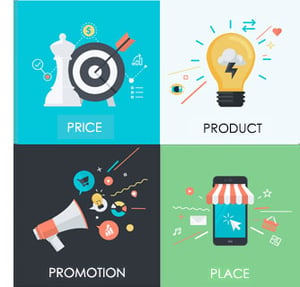 First in a Four-Part Series
There is revolutionary change in today's retail landscape. Various thought leaders in the industry have expressed equally varied points of view regarding the future of Shopping. As researchers and strategic advisors to a variety of brands and businesses, Decision Insight is highly vested in understanding the changing shopper, the impact on retail – and providing guidance to optimize for future opportunities, especially in relation to eCommerce, mobile and technology.
Meet the Ps: Price, Product, Promotion and Place
In this series of articles, we'll examine the building blocks of marketing, the "Four Ps", and their relevancy in the Internet Age. We believe it's not the concept of the Four Ps that's lacking, it's the definition of each of that needs expansion. The four Ps may even be more relevant today than they were when conceived – nearly six decades ago.
First up... Place! This is arguably the most disruptive P and is making a significant impact on the rest of the Ps.

Place: You've changed.
Place, you were solid – you were bricks, you were mortar. And your new friends, that... online crowd. You were Big Box, you were packaged goods central – you had it all, you were retail! Now? You're a concept store, a pop-up store – an automated bodega. You're an endlessly-scrolling-product-grid on an iPhone. Yes, Place, you've changed.

A Place in the Sun
At a recent office lunch, a colleague received an enticing email from a favorite luxury retailer. There was breaking news, the perfect, low-heeled sandal was: On sale! The colleague deftly clicked through the site on her mobile phone, quickly located the sandal in her size, added it to her cart, and placed the order – barely a bite or a beat missed in the lunchtime get-together.
For the lucky sandal buyer, the right Place was conveniently held in the palm of her hand. No one thought the transactional aside rude – it took only a few seconds. And there was no trip to the mall, no search for parking, no fitting, no waiting.
In short, "Place" for today's manufacturers and retailers means reaching the shopper with nuance, acuity and flexibility – meeting the shopper wherever he or she may be.

There's no Place Like Home
Understanding each of these Places and how the shopper uses them provides significant research advantages that lead to more accurate real-world outcomes.
Best practices for engaging the shopper, regardless of Place, can be elusive. One recent testing solution tries to simulate Place using VR in centralized testing centers. Wires are attached to cumbersome VR goggles worn on the participant's head, and shoppers must sign waivers, in case of injury while wearing the goggles. Not exactly ideal.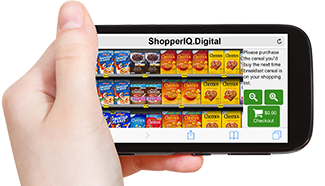 But the most agile virtual simulation research platforms immerse the shopper in Place, whether it be a store or website, using the shopper's own tools: PC, laptop, tablet, or smartphone – at their convenience, whether at home, waiting to pick up their kids from soccer practice, or anywhere between. These research tools "cut the cord" and offer significant advantages as they: 1. Provide for a natural shopping experience and 2. Reduce bias – leading to research results that represent real shopper behavior.

Just the Place to Get Started
As the fourth P – Place – evolves, it stands to reason so should research around Place and today's shopper. When designing best practice Shopper research, two important questions emerge for consideration:
What percent of my shoppers are using a mobile device to order online?
Consider how many shoppers order with their phones. For an eCommerce order, this is often 1 in 5. And, for a quick-serve restaurant, this may be 50% – or even more. Shouldn't your research include mobile shoppers? Likely so. Savvy retailers – especially those with an integrated eCommerce platform – want key predictive analytics built into their research based on shopper behavior.
What percent of my shoppers are using their mobile device to participate in my shopper survey? Today, as many as 30% of research participants access surveys using mobile phones. These participants tend to be younger and more ethnically diverse than their PC or tablet counterparts. Is your current shopper research methodology capturing the full spectrum of shoppers?
At Decision Insight, we've been testing and optimizing the Four Ps for over 30 years, keeping up with the pace of retail and the changing shopper. Our ShopperIQ virtual research solutions deliver confidence in product development, packaging, pricing strategies, POS and merchandising, and where products should be placed within the store, aisle, shelf, and grid. Our Virtual Shopping studies are mobile-compatible, enabling us to reach shoppers wherever they are – PC, smartphone, and tablet. Whether developing Brick & Mortar or Digital strategies, the Shopper experts at DI have you covered.
Contact Leslie Downie at Decision Insight to discuss the impact of eCommerce and how we can help develop and test marketing strategies to optimize your PLACE at retail.