Category Management 2.0 is Finally Here!
Category Management 2.0 is Finally Here!
News flash!!! Category Management 2.0 is finally here! Category Management 1.0 was one of the most successful processes developed within the CPG Industry. However over the last 20 years there have been five fundamental changes that have demanded an update:
Shopper has emerged as a critical focus — Do you understand how the shopper makes their buying decisions, and why?
New technology-enabled predictive analytics capabilities — Are you utilizing virtual research methods to make faster, more knowledgeable decisions? Can you anticipate and predict buying changes looking forward or are you just looking at historical data to make your decisions?
New retail formats — Do you understand where the shopper comes in and out of the overall Path to Purchase, incorporating both brick & mortar with eCommerce together to understand OmniShopper's expectations, with the why?
New data sources such as loyalty card, etc. — Do you understand pricing effects within various shopper segmentations by attribute versus one overall pricing group?
New technology-enabled analytics with speed and accuracy — Can you build a retailer line review in under two minutes versus two weeks using multiple sources of data?
These questions and many more are what CatMan 2.0 is all about! If your company is struggling with the above questions it's time to step back and reassess your capabilities.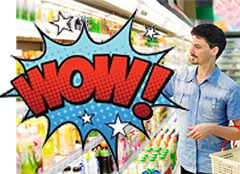 It's important for companies to decide what role you want to play with a given retail customer: strategic advisor, validator, or challenger. Once this is understood, you need to decide, "where do you want to play?" Then you need to determine what capabilities are needed to meet the demands of each role and "how to win." This is a critical area. Winners select portions of the above five changes that enable a retailer to choose them over their competitors. Last, "how to execute," is the final determination to be successful in CatMan 2.0. Do you have a center of excellence, or strictly a field deployment or some combination of both?
With an ever-changing shopper and consumer, being able to look forward and be "predictive" versus "reactive" with the above five changes is critical for success. Consumer Decision Trees, Aisle and Category adjacencies and flows and knowing if your packaging is breaking through the clutter on shelf are just a few of the areas where Decision Insight helps manufacturers and retailers. With OmniShopper expectations being at an all-time high, optimize your digital presence on eCommerce sites with our DigitalIQ research platform.
Our Client Solutions team knows shopper insights and its application to category management to create breakthrough retail solutions. We have led category management and shopper insights functions at leading CPG companies and are active content contributors to the CMA's CatMan 2.0 initiative.
Interested in learning more?
Sign up for the CatMan 2.0 Delivery Tour — a FREE Event at DePaul University in Chicago on July 20 (8am-Noon). Click for more information and to register.