Beyond Covid-19: Preparing for the Future is Vital
---
With the recent disruption of consumption patterns caused by Covid-19, we have seen extraordinary changes in shopping behavior impacting what consumers buy, where they buy, how they buy, how much, and how often. We have seen staggering increases across almost every major category in the grocery store.
Online Grocery Sales
Online grocery sales grew 22% in 2019 and is projected to shoot up to 40% this year, according to Coresight Research.* Much of this growth is from consumers new to shopping online. Between December 2019 and mid-March 2020, there was a significant influx of new online shoppers – the number of shoppers reporting to us that they first began shopping online for groceries in the past month increased from 13% in December 2019 to 19% in March 2020, an increase of well over 40%.**
In-Store Grocery Sales
In-store sales saw major growth as well – in March, sales in Grocery increased 80% vs. a year ago as demonstrated in the Total Store Impact Tracker developed by our sister company, TABS Analytics (with the support of Nielsen). The Tracker provides enhanced visibility to shifting brick & mortar sales at a macro level, and is updated with new data as it becomes available every four weeks.
Tracking Shopping Patterns
This free service includes 7 dashboards, each highly interactive and customizable to any Department, Super Category, or Category in the store that may be of interest to you. It features analytics derived from the latest 13 individual weeks of US-XAOC sales and is designed to answer the following questions:
What is the broad impact to sales, in dollars and units?
What Departments / Super Categories / Categories are gaining and losing versus year ago?
How are Departments / Super Categories / Categories trending across the latest 13 weeks?
We're also offering free access to the monthly topline report, a detailed summary of key observations. The sign-up form for the report is on the Total Store Impact Tracker page.
Below is an example of Share of Store Growth for key departments in the latest monthly summary report. The most recent 4-week period shows acceleration of growth in many categories, with Household Care, Meat, and Frozen showing the greatest gains vs. other Departments.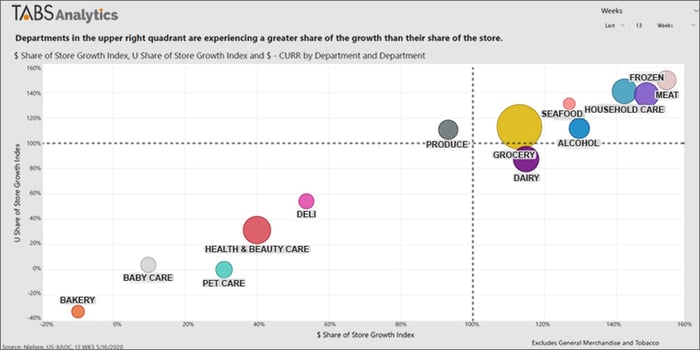 Long term, how will shopping patterns change? Will consumers shop more online?
The recent crisis is expected to accelerate online grocery shopping by 2 to 5 years. Once this crisis is over, companies will likely face a "New Normal" where shopper behavior is permanently impacted. The key question is, where is your category on the adoption curve? The gap between Food & Beverage and non-food CPG products will potentially close in the future.
Just as important as the amount and rate of growth for eCommerce, understanding the source of growth will be crucial in managing your business. Are online sales incremental or are they cannibalizing sales from brick and mortar? If so, is one channel or retailer disproportionately impacted?
Decision Insight and TABS Analytics have developed an All Outlet Sales Projection
Our All Outlet Sales Projection measures how each channel (with an emphasis on eCommerce) impacts sales for your category. By combining historical data with current survey data, the model accurately predicts sales for each major channel. The model has been validated by comparing weighted survey mentions by outlet to household panel purchase occasion data (R-2 = 80%). The data can be used to assess the All Outlet sales potential of your business. This is the only holistic outlet share model available in the industry.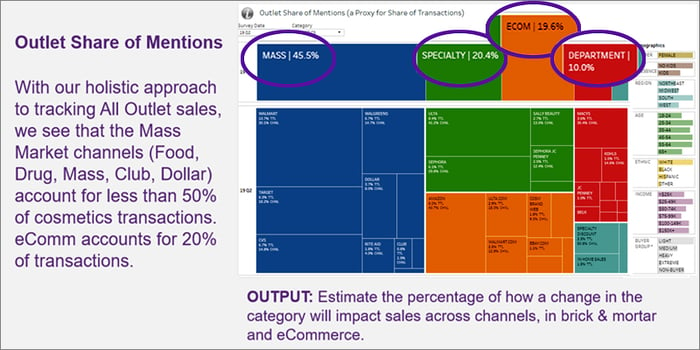 In addition to measuring the size of the prize for online sales, the All Outlet Sales Projection provides an understanding of how consumers are shopping.
Decision Insight and TABS Analytics have developed a suite of solutions for eCommerce, including:
Digital CDT – How can the eCommerce shopping experience be optimized to better drive sales and increase shopper satisfaction?
Digital.IQ Test & Learn: eCommerce Product Research – A fast, affordable way to test and optimize digital offerings before going to market, such as packaging, promotions, pricing, and new product development.

---

Alex Sodek is Chief Research Officer at Decision Insight.
He can be reached at alexs@decisioninsight.com or (816) 221-0445.
*Coresight Research U.S. Online Grocery Survey 2020: https://coresight.com/research/us-online-grocery-survey-2020-many-more-shoppers-buying-more-categories-from-more-retailers/
**Thinking about your online shopping experiences for groceries…when did you first start shopping online for groceries? (December 2019 n=755 primary grocery shoppers age 18-64, March 2020 n=1,609 primary grocery shoppers age 18-64)