Virtual is the New Normal

Embrace the New Normal and Get Ready for Tomorrow
First, we wish health and safety for all.
Second, while we don't yet know the full impact of the pandemic on global health or the economy, there is good news we can be grateful for:
Our society is better equipped than ever before to connect with each other virtually.
As social distancing, remote work and learning become the new normal for many of us for a while, we're faced with the opportunity to make full use of the technologies available. Imagine how much more difficult it was to work or get groceries online in 1999, with slow connection speeds, grainy video conferencing, and eCommerce in its infancy. Today, we connect, work, and shop seamlessly at will using tools on our desk or in our pocket or purse.
As pioneers of virtual research, Decision Insight is ready help our clients face the new normal.
Shopper Behavior is Changing as a Result of Today's Crisis. Are You Going to Be Ready Tomorrow?
While it might be tempting to pull back on shopper research, and necessary in some cases, the rational course calls for keeping in touch with shoppers as the initial shock settles and their needs reset for the post-pandemic landscape. Now is a good time to assess two things:
1. Is your brand positioned to win online?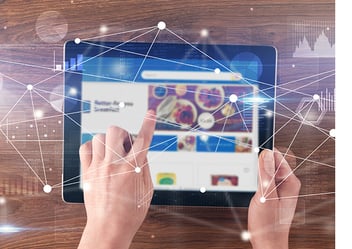 The number of first-time online grocery shoppers jumped over 40% from December 2019 to March 2020. What impression is your brand making on these first timers?
Optimizing digital presence will be more important as we progress even further into the omnichannel future. Digital.IQ™, our Test and Learn platform for eCommerce, enables simulations, quantifies sales impact and provides rich diagnostics to develop and optimize digital marketing strategies. The platform is a tool for asking "What If…" without risk, testing multiple eCommerce strategies and tactics with speed, producing sales results and shopper metrics, all without physical inventory or cost risks.
The lack of physical limitations in the digital world brings opportunities to optimize product taxonomy and assortment around shopper occasions or solutions: think milk and cereal or ice cream and cookies side by side. We help our clients identify these new opportunities with our Digital Consumer Decision Tree, which provides a hierarchical framework for how shoppers evaluate offerings in a category and navigate the relevant selection to reach an online purchase decision. This framework informs taxonomy and assortment, as well as innovation and marketing opportunities.
2. Is your brand positioned to win in-store?
Widespread out-of-stocks, reduced store hours, and more stock-up shopping are shifting in-store dynamics. And, as shoppers become more budget-conscious in response to the economic impacts of social distancing, some brands stand to win and some to lose. It's not too early to consider impact to your brand and category. Our ShopperIQ® virtual shopping solution offers a timely and cost-effective approach to optimize shelf arrangement, packaging, pricing, merchandising, or assess new innovation. It's also a practical alternative to in-store testing that allows you to:
Measure SALES IMPACT: Virtual shopping measures sales impact to the brand, the category, and can be extended to specific retailers.
Collect large, nationally representative samples: The virtual shopping survey works on PCs, tablets, and smartphones, allowing the full spectrum of shoppers to participate.
Get results faster and cheaper: Virtual research can be completed quickly and at a fraction of the cost of an in-store test or other in-person approaches.
Test new product innovation: New products can be added to the shelves without creating/investing in actual prototypes, and without exposure to key customers and competitors.
Forecast and project sales: Assess All-Outlet sales potential for your brand/category.
Decision Insight is ready help our clients embrace the new normal. To learn more, contact Leslie Downie.

Shawna Fisher is Senior Manager, Solution & Partnership Development.
She can be reached at shawnaf@decisioninsight.com or (816) 221-0445.