Rapid POP Testing: Measuring Impact in the Store
Rapid POP Testing: Measuring Impact in the Store
All of the millions spent on product development, product testing, packaging, slogans, and advertising lead up to an essential moment of truth: The moment when the shopper does – or does not – pause to notice your product. Point of Purchase materials are often the merchandising tool most relied upon to provide the stopping power necessary to engage shoppers.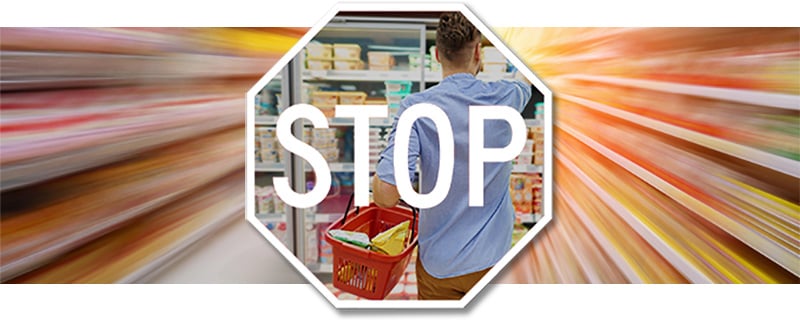 Effective POP = Maximum Stopping Power
Decision Insight's experience in POP testing has led to several "best practice" observations, including:
POP messaging is less about educating and more about reminding shoppers what they already know of the brand (from previous marketing communications).
Eye level POP performs better than other POP materials – as it identifies and helps locate the product's shelf presence.
Above all else, POP must have stopping power. If your product is not seen, its message will not be heard.
Expedited POP Testing
In retail today, waiting 90 days for research results is a lifetime. That's why DI has developed an expedited POP testing program that provides results in as little as two weeks. DI's streamlined POP studies confidently deliver recommendations based on three critical measures Sales Lift, Shelf Presence, and Brand Perceptions/Equity. (Read more about test results here.)
Online & Retail Merchandising – An Intertwined Relationship
Profound changes in eCommerce have influenced the way shoppers buy products online and in store as consumers deftly switch between eCommerce and physical shopping. Decision Insight is a leader in this combined path to purchase research, identifying shoppers' decision processes and providing insights based on shopper behavior. The outcome is the ability to influence purchase behavior through optimized point of purchase messaging across all communication channels.
Optimized POP Spending & Increased Product Sales
Whether using POP to increase everyday sales or developing POP programs for a new product introduction, Decision Insight can help optimize your POP spending – and ultimately, increase sales. DI regularly helps clients test and refine a wide variety of POP strategies including shelf signage (location and messaging), store navigation, secondary locations (including endcaps and special displays), and seasonal promotions.
For more information about ShopperIQ® – Decision Insight's proprietary virtual shopper testing methodologies – and how to make the most of your Point of Purchase materials, or Digital.IQ™ – Decision Insight's eCommerce testing platform – contact Leslie Downie.