Innovation is our Core from the Top Down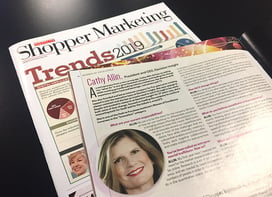 Decision Insight President and CEO Cathy Allin was recently recognized as an Innovator by the Path to Purchase Institute as a Woman of Excellence. She appeared on the cover of the January issue of the Shopper Marketing magazine and her profile and interview dives into her successful leadership and experience with innovation.
From the interview:
What do you believe constitutes a true innovator?
Allin: You have to be a little restless and do a lot of what-iffing. I'm constantly thinking about where everything is going from a shopper's, retailer's and manufacturer's standpoint. Generational shifts, trends and all the transformation happening because of new capabilities and the rapid speed of innovation in technology all play a part. It's about repositioning and reflecting, deconstructing and reconstructing what we think are the next big things we need to be prepared to address.
You can read her full profile and interview online here: https://shoppermarketingmag.com/profile-cathy-allin-decision-insight