Build a Winning eCommerce Game Plan with Digital CDTs
Both Brick & Mortar CDTs and Digital CDTs (D-CDTs) provide a deeper understanding of shopper behavior and motivations – but the playing fields are wildly different.
The physicality of Brick & Mortar stores – the aisles, shelf layouts, checkout areas and overall space design – have a tremendous impact on shopper behavior. In the digital shopping world, physical limitations – and the familiar marketing tools of bricks and mortar – vanish.
To better identify eCommerce challenges and opportunities, Decision Insight has developed D-CDTs, a proprietary digital shopper research tool designed to provide clients greater insight into the shopper's online product-selection process – while also identifying key attributes that most influence the final purchase decision.
Digital CDTs help answer: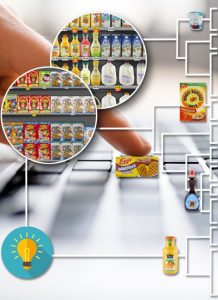 What should a given category taxonomy (click-path) be?
What guiding principles for assortment should be in place for an online category?
What Search words should be used so retailers' algorithms place them high in the path?
Can a manufacturer's products be placed in multiple locations to increase presence?
Win the Digital Channel with Shopper-Driven Category Strategies
Decision Insight's proprietary Digital Consumer Decision Tree approach is both forward-looking and shopper-focused. This unique approach informs online taxonomy and assortment – along with innovation and marketing opportunities.
Potential solutions are then tested in Decision Insight's proprietary Digital.IQ™ Test & Learn platform – quickly, efficiently, and effectively. Participants enter a simulated website where they shop as they would in real life, interacting with the online store and full range of available products. The virtual shopping experience measures what shoppers buy in real-time, reliably projecting and providing deep understanding of the impact of specific online strategies on real-world sales.
Real World Sales Results
eCommerce Research from Decision Insight enables manufacturers and retailers alike to increase sales while optimizing the consumer's online shopping experience. Click here for a copy of our latest paper, Research Solutions for eCommerce Category Leadership, which outlines strategic and tactical recommendations for winning at eCommerce.
Contact Leslie Downie at (816) 437-9852 to learn how we can help optimize your company's shopper strategies to win at traditional retail and eCommerce.