4Ps of Marketing Need Extreme Mobile Makeover
The Fourth P is in the palm of your shopper's hand. Are you there yet?
Remembering the Four Ps from Marketing 101 (Product, Promotion, Price, and Place), we bet the Fourth P, Place, is getting its fair share of attention these days. Watching the world change around us, with record numbers of store closings, Amazon offering one-hour delivery in some places, and Walmart experimenting with automated in-store pickup of online orders, we think the Fourth P must be feeling stretched. It's part store, part website, part mobile site or app. We're going to stretch it further and say that it's all of these things, but to the shopper, more and more, it's also in the palm of her hand.
We saw this firsthand at lunch in the office dining room when our colleague got the email from a luxury retailer. The perfect, low-heeled sandal was on sale! She clicked through to the site using her phone, found the sandal in her size, added it to her cart, and placed the order right there at the table. For her, the right place and right time happened to be in the palm of her hand at that moment.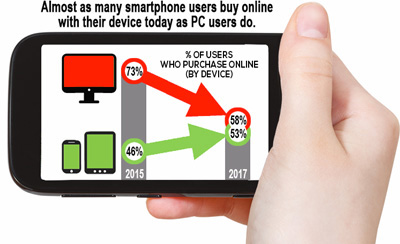 She is on to something. The gap between PC/laptop online purchasing and smartphone online purchasing has narrowed quickly since 2015 (Source: MediaPost).
More Shoppers in More Categories
Some of you may be thinking, this is great for categories such as apparel and electronics, but not so fast: My category is in consumer packaged goods (CPG), and we're just not there yet. Well, CPG may not be there yet, but all signs indicate it's going there.
The number of online grocery and CPG shoppers is set to grow rapidly as options get better and shoppers become accustomed to the convenience of curbside or doorstep delivery. In fact, as reported by 1010data, online CPG sales grew a whopping 36% from 2015 to 2016, to surpass $10 billion. Consider this: With CPG growth flat or even declining in many mature categories, this brave new digital retail world presents an opportunity to grow. And, in this new digital world, 40% of online grocery shoppers are ordering with their mobile phones, according to analysis by Criteo.
Best Practices for Smartphone Shopper Research
When designing shopper research, as a best practice, consider the fourth P – Place – and whether it's in the palm of your shopper's hand. Two questions we recommend you ask:
What % of my shoppers are using their phones to order online?
Consider how many of your shoppers are ordering with their phones. For an eTail order, this could be as many as 1 in 5. For a quick-serve restaurant, this could be as much as half or more. You may need to include mobile phone shoppers in your research to better influence eTailers or internal stakeholders to adopt your findings.
What % of my shoppers are using their phones to participate in my shopper survey?
Consider that these days, as many as 20-30% of research participants are entering surveys using their mobile phones. These participants tend to be younger and more ethnic than their PC or tablet counterparts. Take a moment to think about whether your current shopper research is capturing the full spectrum of shoppers.
If you're not quite there yet, but need a guide to get started on the journey, contact us. We're there, and we're ready to help you get there.
Virtual Shopping Goes Mobile: DI's research platforms are ideally suited for testing Pricing, Promotions, Messaging, Layout, Product Assortment, Custom Offers, and more. Our Brick & Mortar and eCommerce Virtual Shopping studies are mobile-compatible, enabling us to reach shoppers wherever they are – PC, smartphone, and tablet.

Contact Leslie Downie at (816) 437-9852 to learn more about mobile research.